With lockdown here in the UK coming to an end and enticing whispers of holidays abroad floating through the air, people are starting to chomp at the bit to dust off their suitcases, fish out their passports and get travelling once again… But how do travel companies get themselves noticed amongst the thousands of businesses vying for customer attention after the travel drought of 2020?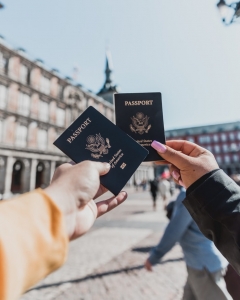 Prior to the devastating blow of Coronavirus, tourism had been on the rise and by October 2019, it was reported that nine in ten British people went on holiday that year (Tanzer, M 2020). So, with the travel industry preparing to fire back up once again and the masses dreaming of jetting off to new locations, a frequent debate arises once more… High street agency vs travel App – which one is better for travel businesses in this new digital age?
To stay in the game and keep up with the ever-growing travel and tourism industry, travel businesses need to take a good look at how customers prefer to interact and the most popular search and booking processes. A report by ABTA showed that four in five people (81% in 2018) are currently booking holidays themselves online instead of using a travel agent. The report also showed that nearly 50% of global web page views have been conducted from a mobile device. Also, in the US alone, digital travel sales have increased to $180 billion and were forecast to hit $213 billion by 2020 (Condor Ferries 2021) … Crazy huh?
Additionally, Travelport's 2018 Digital traveller Survey, of 16,000 travellers from 25 different countries, indicated that mobile devices are as vital for leisure travel as for other aspects of everyday life and further research shows that travel apps are the fastest growing category for mobile usage (Foxe 2016).
It is clear that customers are more digital savvy than ever before, meaning travel companies must continue to evolve alongside the digital age in order to stay ahead in the market to retain customer engagement (Mitel 2019). Data suggests that travel companies must invest in technology platforms like websites and mobile Applications that aid their ability to connect to potential customers and reach the target market who no longer visit the high street agent.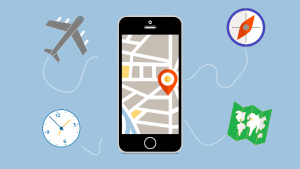 However, although diminished in numbers (Statista 2020), travel agents still exist and (despite the boom in travel technology) are still an essential part of the holiday process to many customers. It was reported that 43% of travellers preferred to use a travel agent when booking air travel (Travel Agent Central 2018) and 66% of travellers stated that their travel agent helped them to avoid costly mistakes and inconveniences (Condor Ferries 2021).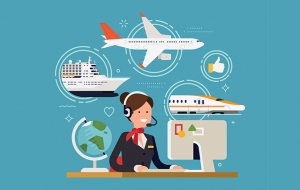 So, with all of these statistics in mind, it is evident that there is a growing demand for electronic platforms that offer an easy and hassle-free experience when booking a holiday. However, we must also acknowledge that the personal element that travel agents provide and the ability to build trust in an agent or company, is still an essential and in-demand quality for many customers. Within the travel and tourism industry, customer engagement and a personalised experience is crucial to staying ahead in the market and retaining customer engagement.
The question I pose to you now, is not high street vs App but whether or not there is a way to merge both the personalised qualities of a high street agent, with the speedy and efficient aspects that technology platforms (such as an App) provides?
The answer is yes.
There is currently a gap in the market for a way to bridge these two parts of the travel industry together. Customers want the ease and speed of browsing for trips at their leisure via popular technologies such as travel Apps, but also continue to value the support and guidance offered from a personalised service. Here at Appstricity, we make this possible. We are re-inventing the role of the personalised travel agent. Our Aladdin App (a set of prebuilt App functional components) intends to be more than just a catalogue of products to browse and buy and more than just a faceless booking portal.
Aladdin is a platform that aims to address the middle market of the travel industry between two extremes – faceless portals where you scroll around trying to find what best suits you online and the high-street stores that accommodate personal interactions with customers. Aladdin adds the ease and efficiency of technology whilst keeping the personal touch and offers a way to build customer trust in your business.
You can find out more about Aladdin via our website and soon you will see how we helped one travel company lead the way in bridging that gap using our App design.
Condor Ferries. (2021). Travel Agency Statistics 2020-2021. [online] Available at: https://www.condorferries.co.uk/travel-agency-statistics [Accessed 11th of April 2021]
Foxe, K (2016). Travel App Usage Continues to Grow with 137m Hits Each Month. [online] Available at: https://www.lonelyplanet.com/articles/travel-app-growth [Accessed 11th April 2021]
Mitel, (2019). The Decline of the Highstreet Travel Agent and the Digital Revolution. [online] Available at: https://www.mitel.com/en-gb/blog/the-decline-of-the-high-street-travel-agent-and-the-digital-revolution [Accessed 11th April 2021]
Tanzer, M. (2020). Travel Trends Report. [online] Available at: https://www.abta.com/industry-zone/reports-and-publications/abta-travel-trends-reports/travel-trends-2020 [Accessed on 11th of April 2021]